The Northlake Difference
Northlake Veterinary Surgery was founded in 1980 to support general practice veterinarians and provide specialized surgical services to pet owners. Over the past 30 years, we have helped thousands of patients, from canine athletes and working dogs to beloved family pets.
Expert Surgical Care
We integrate the art and science of veterinary surgery. All of our surgeons are boarded Diplomates of the American College of Veterinary Surgeons, and our surgical skills are complimented by an amazing technical team, a dedication to quality patient care, and excellent communication with our clients and referring veterinarians.
Simply stated, Northlake is different than other veterinary surgical referral practices. There are many reasons Atlanta Magazine recognized Northlake Veterinary Surgery in the Best of Atlanta pets editions.  We look forward to working with you and your pet.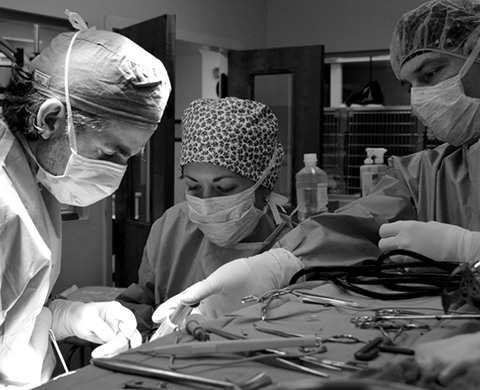 What Our Clients Have to Say About Northlake:
Our overall experience at Northlake was wonderful. From the minute we walked in we felt welcomed by the attentive staff and comfortable hospital.  The doctors were very detail oriented and treated Polly (our dog) like their own.  We were most impressed with the follow-up after the surgery took place.

DOG: POLLY | PROCEDURE: TPLO

The entire staff made a stressful situation much easier.

Cat: Doodlebug | Procedure: Femur fracture repair

We are so thankful for the extra 'squirrel chasing' time that Chipper had because of your work on his knees.

Dog: Chipper | Procedure: Bilateral CCL Reconstructions & MPL Repair

The best, sweetest, and truly kindest gang - anywhere.

Dog: Roxey | Procedure: Platelet-rich Plasma Elbow Injection

We truly felt Sadie was in the best care of any place.

Dog: Sadie | Procedure: TPLO and Menisectomy

You made the observation she would not have a bad day, and she didn't.

Dog: Sassy | Procedure: Hindlimb amputation to treat osteosarcoma

The day we ran over Dude was the worst day of our lives.  The day we picked him up and he walked out of your hospital was the best.

Dog: Dude | Procedure: HIp dislocation repair and TPLO
Have a question or comment for our Referral Coordinator?
We'd love to hear from you.