An Experienced Surgical Team:
We have a passion for the art and science of veterinary surgery.  All of our surgeons are boarded Diplomates of the American College of Veterinary Surgeons, and our surgical skills are complimented by an amazing technical team, a dedication to quality patient care, and excellent communication with our clients and referring veterinarians.
Matt Corse, DVM, MS
Diplomate, American College of Veterinary Surgeons
Owner, Northlake Veterinary Surgery
Dr. Corse completed his Bachelor of Science degree from the University of California, Irvine, where he was a four year scholar-athlete in Track and Field, competing in the 400m hurdles, the triple jump, and the mile relay. Dr. Corse received his veterinary degree from the University of California, Davis. He completed a small animal internship at the Virginia-Maryland Regional College of Veterinary Medicine followed by a surgical residency at Kansas State University.
While at Kansas State University, Dr. Corse studied canine spinal injuries, earning a Masters Degree in canine spinal biomechanics. Interested in orthopedic sports injuries, Dr. Corse completed course work at the University of Tennessee Canine Rehabilitation Program and in 2013 was trained in diagnostic musculoskeletal ultrasound for identifying and targeting treatment for muscle and tendon injuries. Dr. Corse is a consultant for Arthrex Vet Systems, and is a lead instructor for knee surgery continuing education courses for veterinarians across the country. Dr. Corse loves being a part of the Atlanta veterinary community performing specialized orthopedic surgery on dogs and cats. Dr. Corse continues to compete athletically, and in 2012 was Georgia's Cat 3 Road Race Cycling State Champion. Dr. Corse and his wife Yvette have a daughter named Meena Rane, a son named James, and a French Bulldog named Gia.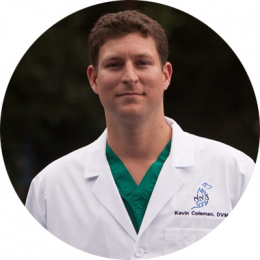 Kevin Coleman, DVM, CCRT
Diplomate, American College of Veterinary Surgeons
Dr. Coleman graduated from the University of Florida in 2002 with a Bachelor of Science degree in Zoology. Dr. Coleman was a successful pitcher at Lassiter High School in Marietta, and played baseball through his undergraduate years at the University of Florida.  Dr. Coleman was only the third player in University of Florida history to earn four straight SEC honor roll distinctions, and after battling back from elbow surgery, Dr. Coleman was drafted in the 24th round by the St. Louis Cardinals in 2002.
He retired from baseball to pursue his career in veterinary medicine when he was accepted into veterinary school at the University of Florida. After earning a Doctorate of Veterinary Medicine in 2007, Dr. Coleman completed a one year small animal rotating Internship at Alameda East Veterinary Hospital in Denver, CO, worked one year in small animal private practice in Cary, NC, and worked one year as a clinical veterinarian at the North Carolina State University Veterinary Teaching Hospital. Dr. Coleman has advanced surgical training, completing his small animal surgical residency at the University of Georgia College of Veterinary Medicine in 2013. During his surgical residency, Dr. Coleman studied pain assessment in dogs, owner satisfaction following canine limb amputation, and has lectured on canine hip dysplasia and medial patella luxations. Interested in canine sports medicine, Dr. Coleman completed his Certification in Canine Rehabilitation Therapy in 2014. Dr. Coleman is married to Dr. Amanda Erickson Coleman, a veterinary Cardiologist at the University of Georgia. They have three daughters named Charlotte, Reese, and Harper and a black Lab named Birdie.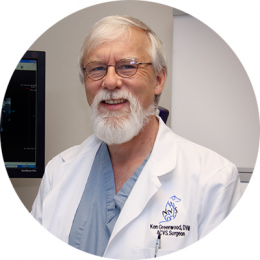 Ken Greenwood, DVM, MS
Diplomate, American College of Veterinary Surgeons  |  Founder, Northlake Veterinary Surgery

Dr. Greenwood is a graduate of the University of Illinois College of Veterinary Medicine. He completed his internship at Purdue University followed by a small animal surgical residency and Master's degree program at the University of Georgia. Dr. Greenwood founded Northlake Veterinary Surgery in 1980, becoming the first ACVS boarded surgeon in the greater Atlanta area. In addition to providing specialized surgical care for thousands of dogs and cats at Northlake, Dr. Greenwood has provided years of pro bono surgical services for Zoo Atlanta, operating on a wide variety of exotic animals.
Zoo Atlanta, operating on a wide variety of exotic animals.
In 2011, he obtained advanced training in raptor (hawks, owls and eagles) external skeletal fixation at University of Minnesota. Dr. Greenwood remains active in training the next generation of veterinary surgeons, having established weekly video-conference rounds between Northlake and the University of Georgia and serving as a locum professor at UGA and the University of Illinois mentoring and advising many surgical residents. A longtime leader in the Atlanta veterinary community, Dr. Greenwood was voted the 2006 Veterinarian of the Year by the Greater Atlanta Veterinary Medical Society.
In his free time, Dr. Greenwood volunteers at the Southeastern Railway Museum running and maintaining the 1950s vintage Miniature Train. He also enjoys travel photography and has been to the Northern and Southern poles of the world photographing and researching whales and wildlife. He remains fascinated by animals in the wild and continues to travel the seas in hopes of one day encountering the blue whale. Dr. Greenwood and his wife, Beth, have four adult daughters, Sarah, Anna, Bonnie, Grace, and a clowder of cats.
What Our Clients Have to Say About Northlake:
Our overall experience at Northlake was wonderful. From the minute we walked in we felt welcomed by the attentive staff and comfortable hospital.  The doctors were very detail oriented and treated Polly (our dog) like their own.  We were most impressed with the follow-up after the surgery took place.

DOG: POLLY | PROCEDURE: TPLO

The entire staff made a stressful situation much easier.

Cat: Doodlebug | Procedure: Femur fracture repair

We are so thankful for the extra 'squirrel chasing' time that Chipper had because of your work on his knees.

Dog: Chipper | Procedure: Bilateral CCL Reconstructions & MPL Repair

The best, sweetest, and truly kindest gang - anywhere.

Dog: Roxey | Procedure: Platelet-rich Plasma Elbow Injection

We truly felt Sadie was in the best care of any place.

Dog: Sadie | Procedure: TPLO and Menisectomy

You made the observation she would not have a bad day, and she didn't.

Dog: Sassy | Procedure: Hindlimb amputation to treat osteosarcoma

The day we ran over Dude was the worst day of our lives.  The day we picked him up and he walked out of your hospital was the best.

Dog: Dude | Procedure: HIp dislocation repair and TPLO
Have a question or comment for our Referral Coordinator?
We'd love to hear from you.