A Dedicated Staff:
We've helped thousands of patients, from canine athletes and working dogs to beloved family pets.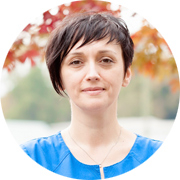 AZRA AHMIC
Referral Coordinator
Azra serves as a resource for our clients to help facilitate the needs of their pet.  Azra completed a veterinary technician program in her native country Bosnia before moving to the United States in 1998.  Azra joined Northlake in 2014 with over 14 years of experience in specialty veterinary customer service.  Azra enjoys listening to music (metal), reading, and spending time with her family, friends, and two cats (Cody and Stella).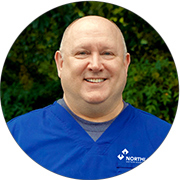 ROB ROBECK
Referral Coordinator
Rob is a graduate of Florida State University with a Bachelor of Science degree. Rob comes to Northlake with 7 years of referral coordination and customer service experience in the veterinary specialty field. Prior to that, Rob worked with World Airways as a customer service representative, inflight service manager and flight attendant. Rob and his partner have fostered many pets, and they have a 16 year old Maltese mix named Watson who, to date, is their only foster failure. In his spare time, Rob is a voracious reader and enjoys cooking and entertaining with friends.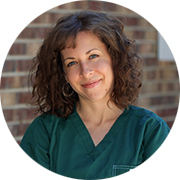 MANDY BRODY, CCRA
Registered Veterinary Tech.
Certified Rehabilitation Assistant
Mandy graduated from Gwinnett Technical College in 2005 with a Degree in Applied Sciences – Veterinary Technology. She completed her certification in Canine Rehabilitation in 2016. Mandy is an avid sports fan (especially college football), and excellent photographer, and enjoys spending time with her dog Sizzle.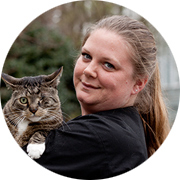 KATIE BRYSON
Registered Veterinary Tech.
Katie joined Northlake in 2011 with 6 years of experience in general veterinary practice. Katie graduated from Gwinnett Technical College in 2005 with a Degree in Applied Sciences – Veterinary Technology. Katie enjoys spending time with her husband Juan, their daughter Eleanor and their cats Mr. Peepers and Chuckles.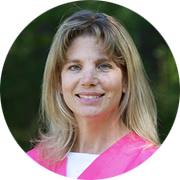 MICHELE JONES-DOWDY
Registered Veterinary Tech.
Michele joined Northlake in 2007, with 5 years of experience in general veterinary practice and 10 years experience in internal medicine specialty practice. Michele and her husband along with their two sons enjoy spending time with family and friends.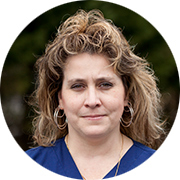 CATHY VIAN
Registered Veterinary Tech.
Cathy was trained in the United States Army, where she achieved the rank of Staff Sergeant.  Cathy acquired 6 years of experience in Emergency Medicine before joining Northlake in 1994.  Cathy enjoys gardening, home improvement projects, family, and spending time with her dog Buddy and fleet of cats.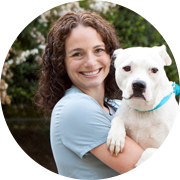 LAUREN SURMIK
Registered Veterinary Tech.
Lauren has been in the field of veterinary medicine for over 20 years. She graduated from Georgia Southern University in 2003 with a bachelor's degree in biology and Gwinnett Technical College in 2014 with a Degree in Applied Sciences- Veterinary Technology. Lauren has acquired experience in General Practice, Emergency Medicine, Surgery, and Zoo/Exotics Medicine. When Lauren isn't working, she enjoys spending time with her husband Ryan along with their dogs Pickles, Possum, Indiana and their cat, Mr. Schnacks. Her favorite hobbies are hanging out with friends and family, traveling, working out and anything that allows her to be outside.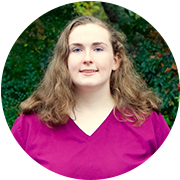 TABITHA BROWN
Registered Veterinary Tech.
Tabitha graduated from Fort Valley State University in 2020 with a degree in Veterinary Technology. In her free time, she likes going on walks and hikes. She loves spending time with her family and dogs, Pepper and Petey. She loves to swim and played three sports in high school along with being in the orchestra.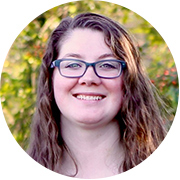 KATIE MCQUAIG
Registered Veterinary Tech.
Katie joined our family in 2019 after having her own dog's surgery performed at Northlake. Katie previously worked at the University of Georgia in their large animal veterinary facility. Katie graduated with a degree in Equine Science in 2016 from Judson College and continued her education at Gwinnett Technical College, receiving her RVT degree in 2018. Katie is an avid animal lover, enjoys crocheting, reading, and spending time with her dogs, family, and friends.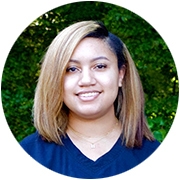 BRANDI BILLINGSLEY
Registered Veterinary Tech.
Brandi is a 2021 graduate of Gwinnett Technical College with a Degree in Applied Sciences – Veterinary Technology, and earned a Bachelors of Science degree in Biologic Sciences from Kennesaw State University in 2019. Brandi loves anesthesia and surgery. Away from the hospital, Brandi's favorite things are cooking and watching scary movies with her dog Honey and her cats Ohana and Rue.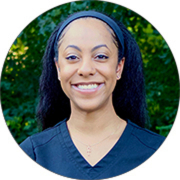 ASHLEY WARD
Veterinary Assistant
Ashley is originally from northern Virginia. She received her Bachelors degree in Speech-Language Pathology from the University of Pittsburgh in 2009, but has always been an animal lover. Shortly after moving to Atlanta, she got her first pet care job and fell in love! Ashley has 10 years of experience in multiple areas of animal care from pet sitting and managing dog daycares to being a veterinary assistant in general practice and ER settings. When she's not spending time with her dog, AC, and cat, Sir Crumbs-Purrs-A-Lot, Ashley enjoys playing tennis, spending time outdoors, writing, traveling and trying new restaurants/foods.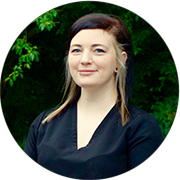 CHRISTINA CARPENTER
Veterinary Assistant
Christina joined Northlake in 2021 with previous experience in emergency veterinary care. She graduated from Georgia Southern University in 2017 with a Master's degree in Music Education. In her spare time she enjoys traveling to National Parks and other countries, mud runs, crafting and spending time with her two German Shorthair Pointers Moose and Bandit.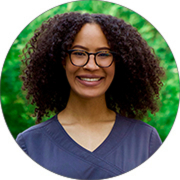 ZURI BOWEN
Veterinary Assistant
Zuri graduated from the University of Georgia in 2019 with a Bachelors degree in Animal Science. During her time in college, she raised two puppies for the Guide Dog Foundation for the Blind. Zuri  joins Northlake with two years of experience in a veterinary Internal Medicine practice and 3 years working as an animal care technician in the University of Georgia Laboratory Animal Science Department.  In her free time, Zuri enjoys listening to music, playing video games, skateboarding, and spending time with family, friends, and pets.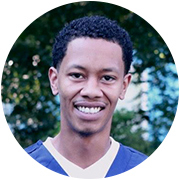 CARNELL BENNETT
Veterinary Assistant
Carnell joined Northlake in 2018 through our work-study internship program. He comes to us from Pennsylvania where he gained experience working for multiple veterinary specialty hospitals. In his spare time, Carnell can be found fishing, training his 2 dogs Ceily and Ernesto, or looking out for his little chameleon, Flower.
What Our Clients Have to Say About Northlake:
Our overall experience at Northlake was wonderful. From the minute we walked in we felt welcomed by the attentive staff and comfortable hospital.  The doctors were very detail oriented and treated Polly (our dog) like their own.  We were most impressed with the follow-up after the surgery took place.

DOG: POLLY | PROCEDURE: TPLO

The entire staff made a stressful situation much easier.

Cat: Doodlebug | Procedure: Femur fracture repair

We are so thankful for the extra 'squirrel chasing' time that Chipper had because of your work on his knees.

Dog: Chipper | Procedure: Bilateral CCL Reconstructions & MPL Repair

The best, sweetest, and truly kindest gang - anywhere.

Dog: Roxey | Procedure: Platelet-rich Plasma Elbow Injection

We truly felt Sadie was in the best care of any place.

Dog: Sadie | Procedure: TPLO and Menisectomy

You made the observation she would not have a bad day, and she didn't.

Dog: Sassy | Procedure: Hindlimb amputation to treat osteosarcoma

The day we ran over Dude was the worst day of our lives.  The day we picked him up and he walked out of your hospital was the best.

Dog: Dude | Procedure: HIp dislocation repair and TPLO
Have a question or comment for our Referral Coordinator?
We'd love to hear from you.